You've probably heard of CBD Isolate by now. CBD is Cannabidiol – a chemical compound derived from the plant Cannabis Sativa or what we commonly call marijuana. Due to all its therapeutic properties, a lot of CBD products, like oils, tinctures, edibles, skin care products, etc. are being manufactured by companies. Another CBD product that is gaining popularity is CBD isolate. This is because it might be the purest form of CBD available. Let's understand the difference between CBD isolate and other full-spectrum CBD products, and where you can Buy CBD Isolate.
Most CBD products that we use usually contain additional cannabinoids and trace levels of THC (the psychoactive compound in marijuana). CBD isolate is different in the sense that it does not have any other compound. It is made for people who just want to consume CBD in its pure form.
What Is CBD Isolate?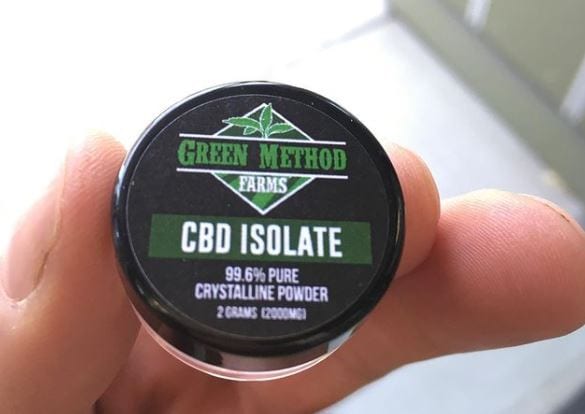 CBD isolate is the crystalline form of CBD (powder or solid). Unlike other full-spectrum CBD products that can have up to 0.3% THC, CBD isolate is pure. While manufacturing CBD, all compounds including THC are extracted from the cannabis plant leaving behind crystallized CBD. Crystallized CBD can be in the form of solid crystals or fine powder.
CBD isolate is the most refined form of CBD oil. It is pure cannabidiol, so it contains very little to no THC. This makes it a great alternative for those who do not want to experience any psychoactive effects from their CBD. You can buy CBD isolate online and have it shipped to your home.
Most CBD isolates have as much as 99% CBD content.
Benefits Of CBD Isolate
The biggest benefit of CBD isolate is that it is non-psychoactive. This means that you will not experience any side effects like feeling tired or groggy after taking this product. Additionally, you won't have to worry about taking too much or too little to get the benefits that you need because the dosage is easy to control with this product.
Several benefits have led to the popularity of CBD isolate among users.
Zero concentration of THC
If you want to experience the best therapeutic effects of CBD, you should try CBD isolate. Free from hemp products (THC), CBD isolates deliver great results without any fear of showing up on drug tests.
Unlike oils and tinctures, CBD isolate is quite easy to consume. You can mix CBD isolate with food and drinks for easy consumption.
CBD isolate is the purest form of CBD you will get on the market. With no other component, you will not doubt how much CBD you are consuming. While studies on the potential health benefits of CBD are underway, it is believed that it can have anti-anxiety effects and can be used to treat a few inflammatory conditions and pain.
Being the purest form of CBD, consumption of CBD isolate is not considered risky. However, a few side effects can occur like diarrhea, fatigue, weight loss/gain, or insomnia.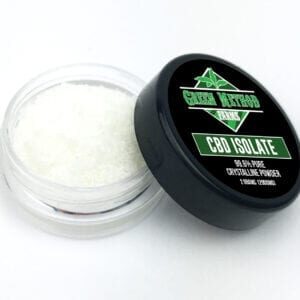 The short answer is yes. CBD isolate is better for anxiety than whole plant CBD. However, it's important to note that there are two main types of CBD isolate: crystalline and powder. Many companies sell what they call "pure CBD isolate" but it's actually just another form of the compound called crystalline (or crystalline isolate). Crystalline isolate is processed using supercritical CO2 extraction, which is a very expensive process used to extract oil from plants (or in this case, cannabis).
Crystalline isolate can be much more effective at treating anxiety than whole plant extract because it contains higher concentrations of CBD than other forms of the compound. This means that you need less crystalline isolate to achieve the same therapeutic effects as you would with the whole-plant extract. In fact, some research suggests that only 3-5 mg of a pure crystalline isolate can have anxiolytic effects on par with 10-20 mg of whole plant extract.
Does CBD Isolate Reduce Pain?
CBD isolate is said to be more effective than other forms of CBD in reducing pain. A study in the European Journal of Pain found that CBD isolate was more effective at reducing inflammation and pain than full-spectrum CBD.
CBD isolate is also said to be more potent than other forms of CBD. A study in the Journal of Clinical Pharmacology found that CBD isolate is more bioavailable than full-spectrum CBD. This means that it is more easily absorbed by the body.
CBD Isolate For Sale: How To Choose?
Where to buy CBD isolate? This is a question you're probably asking yourself if you're just starting out with a CBD regimen. If you want to make sure you're purchasing high-quality CBD products, it's important that you buy from a reputable source.
You must buy CBD isolate from trusted brands as there are no set standards for CBD products. The brands that you choose should be transparent enough to disclose the results from third-party labs.
Always check that the CBD isolates you buy should not contain any impurities, THC, or additional plant materials.
Green Method Farms CBD isolate is highly refined to ensure that it is of the purest quality. Manufactured in powder form, it is easy to consume. You can add it to the already existing formulations and reap its benefits.