People everywhere are looking for relief from various forms of pain. Whether it's chronic pain or pain from an injury, people are eager to find something that will help them feel better. CBD products have been shown to be effective in relieving pain, and there are a number of great products out there to choose from. Since they are seen as a safe, all-natural method of treating pain, natural CBD oils have grown in popularity. Backache and arthritis are two frequent illnesses that can be treated with cannabidiol instead of traditional painkillers. Long used to treat sleeping issues, Best CBD products for pain also help to reduce inflammation.
Cannabis sativa is the plant from which cannabidiol is mostly extracted. This plant contains more than 100 cannabinoids, which are chemical substances. One of the most popular pain treatments, CBD has a variety of qualities including anti-inflammatory and analgesic.
Finding the CBD product you need for your medical issue has been much easier now that the vast majority of people are aware of how legal CBD is. No matter the answer, you can order it from the best CBD companies or from the manufacturers of CBD oil.
How CBD works for pain relief is not fully understood. CBD may interact with receptors in the brain and nervous system to reduce inflammation and pain. It may also increase levels of endocannabinoids, which are naturally occurring chemicals that play a role in pain regulation.
This practical treatment is far superior to other painful executive medications and medical procedures that rip a hole in your pocket. We should now look into how CBD becomes a good pain reliever.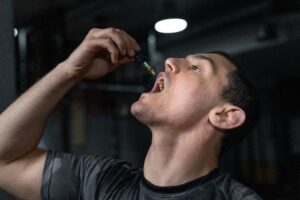 CBD Reduces Inflammation
CBD is a non-psychoactive compound found in the cannabis plant. CBD has been shown to be successful in decreasing joint inflammation, especially osteoarthritis. In a 2017 research, it was found that CBD not only decreased pain but it also helped in preventing nerve damage. It stops the condition from getting worse. CBD is an effective treatment for osteoarthritis because it helps to reduce inflammation and pain.
Shop Now- Best CBD Products For Pain
CBD Has Antifungal Properties
If you are someone whose wound healing takes time, CBD helps in your recovery time. This is most beneficial for patients suffering from diabetes. The antifungal and antibacterial properties that it possesses speed up the recovery time while fending off severe infection.
When you get accidental wounds or blisters, CBD acts as a wonder agent. Applying it directly to the affected area creates a protective barrier on the injured skin. In this way, the nutrients are distributed where they are required and the nerves are soothed, which helps in the faster healing of the wound.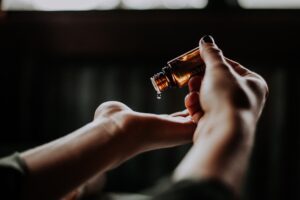 CBD Imitates Pain Relief Medication
Cannabis is known to activate different receptors in the brain, which is why many people use it to find relief from pain. CBD, in particular, is known as a brain receptor manipulator. This means that it can directly target the source of pain, rather than just providing superficial relief. CBD can help to reduce inflammation, which can then help the body to start healing itself. This can provide relief even before the pain is completely gone.
CBD Aids Health Issues
If you're struggling to get a good night's sleep, you're not alone. According to the National Sleep Foundation, 50 to 70 million Americans suffer from sleep disorders. CBD oil can help. If you're struggling with back pain, CBD oil can help. CBD oil is a natural anti-inflammatory and pain reliever. When applied topically, CBD oil can provide relief for muscle aches and pains. If you're looking for a natural way to ease your sleep or pain issues, CBD oil is worth a try.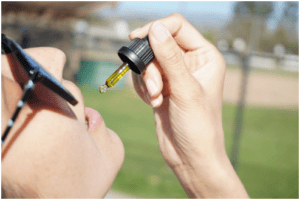 Word Of Caution
However, purchasing best CBD products for pain can be an overwhelming task, as there are so many different products to choose from. When it comes to choosing a CBD product for pain relief or sleep, it is important to understand the different types of CBD that are available. Full-spectrum CBD, broad-spectrum CBD, and CBD isolate all have different effects on the body, so it is important to choose the right product for your needs.
Full-spectrum CBD products contain all of the cannabinoids found in the cannabis plant, including THC. Broad-spectrum CBD products contain most of the cannabinoids, but not THC. CBD isolate products contain only CBD and no other cannabinoids.
When choosing a best CBD products for pain, it is also important to check the label to see how much CBD is in each product. Products with a higher concentration of CBD will be more potent and may provide more relief.
If you are unsure which CBD product is right for you, it is always best to consult with a healthcare professional before making a purchase.
Word Of Advice
When it comes to reducing pain and reducing inflammation, CBD is fantastic. Due to its extensive accessibility, Greenmethodfarms also offers best CBD products for pain online. But not everyone should use CBD; you must follow the right instructions before using it. Additionally, look at how transparent the businesses' rules and practices are.
You should definitely think about using CBD oil for pain reduction if you have chronic pain and wish to pursue a more natural course of treatment.
Get rid of anxiety, stress, and sleep disturbances as well. Take CBD oil as part of your daily routine to adopt a healthy lifestyle. Some people who deal with severe chronic pain on a daily basis may benefit from treatment activities like exercise and yoga.
CBD Products Health Benefits And Side Effects
CBD products are becoming increasingly popular as more people learn about the potential health benefits of CBD. However, there are also some potential drawbacks to using CBD products that you should be aware of.
Some of the potential pros of using CBD products include:
1. CBD may be able to help you manage stress and anxiety.
2. CBD may help to improve your sleep.
3. CBD may help to relieve pain and inflammation.
4. CBD may have anti-cancer properties.
Some of the potential cons of using CBD products include:
1. CBD may interact with other medications you are taking.
2. CBD may cause drowsiness or fatigue.
3. CBD may cause gastrointestinal issues like diarrhea.
4. CBD may not be suitable for everyone.
Before you start using best CBD products for pain, it is important to do your research and consult with your doctor to make sure they are right for you.
Best CBD Oil for Pain: 5 Products
There are a lot of different CBD oils on the market, and it can be tough to know which one is right for you. That's why we've put together a list of the 10 best CBD oils for pain, so you can make an informed decision.
1. Green Method Farms CBD Oil: There are a lot of different CBD oil products on the market these days. So, how do you know which one is right for you? Green Method Farms CBD oil is a great option for those looking for high-quality, pure CBD oil. Their oil is made from organic, non-GMO hemp plants and contains no added fillers or artificial ingredients.
Plus, Green Method Farms uses a supercritical CO2 extraction process to ensure that its oil retains all of the beneficial cannabinoids and terpenes. Whether you're looking to improve your overall health or seeking relief from a specific condition, Green Method Farms CBD oil could be just what you need. Green Method Farms is a best choice for best CBD products for pain.
2. Lazarus Naturals CBD Oil: Lazarus Naturals is a well-known provider of CBD products. Based in Seattle, Lazarus Naturals sources their hemp from Oregon and Colorado farmers who use sustainable farming practices. All products are third-party lab tested for potency and contaminants, and the results are available online.
Lazarus Naturals offers a variety of CBD products, including tinctures, capsules, topicals, isolates, and pet products. CBD tinctures are available in a wide range of potencies, from low-dose options ideal for first-time users to high-strength formulas for more experienced users. Lazarus Naturals also offers CBD isolate, which is a 99% pure CBD powder that can be used to make your own CBD products or added to existing products.
Topicals are a great way to target specific areas of the body, and Lazarus Naturals offers a variety of topicals, including lotions, balms, and massage oils. Lazarus Naturals also has a line of pet products, including CBD tinctures and dog treats. If you're looking for a high-quality CBD product, Lazarus Naturals is a great option. Their products are third-party lab tested and available in a wide range of potencies, so you can find the right product for your needs.
3. Joy Organics CBD Oil: Joy Organics was founded in 2018 by Joy Smith and her family. After experiencing issues with pain and sleep, she found about CBD and was curious to test if it could also benefit her. She had a burning desire to find CBD products that delivered reliable outcomes. She eventually made the decision to launch her own business after not discovering these attributes in CBD goods currently on the market. The company currently provides a selection of USDA Certified Organic, third-party certified, broad- and full-spectrum CBD products.
4. Hemp Bombs CBD Oil: When it comes to CBD, Hemp Bombs is as good as they come. Their flavored tinctures are well-thought out and properly executed. If you're into THC-free CBD products, Hemp Bombs is a solid choice. I especially like the gummies and lollipops. The capsules, creams and tinctures were also on point. All of their products are well packaged, and made with high quality control standards.
5. Green Roads CBD Oil: A pharmacist with over 20 years of experience founded Green Roads CBD, which is committed to assisting people in achieving health and wellbeing via the power of plants. They guarantee customer happiness and all of their goods are third-party tested to assure quality and potency.
Natural pain treatment can be promoted using a variety of products from Green Roads CBD, and the company is always developing new ones for its consumers. If you're looking for a company you can put your trust in, Green Roads CBD is a fantastic choice.

How To Choose The Best CBD Product For Pain Relief
There are many CBD products on the market, and it can be difficult to decide which one is best for you. Here are some tips for choosing a CBD product for pain relief.
Potency (Strength of the CBD)
One of the most crucial factors to consider when selecting CBD oil is potency. More cannabidiol will be present in the oil and the effects will be more potent the higher the potency. It's crucial to keep in mind that CBD oils don't come in a one-size-fits-all package; what works for one person may not work for another. Because of this, we gave companies with a variety of potency alternatives higher ratings in our assessment.
Extraction Method
The quality of CBD oil is also influenced by the extraction process used to make it. The best extraction method is CO2, which yields a product that is more pure and free of hazardous solvents. The price of oil is affected by this method's higher cost as well. Brands that employ less expensive techniques, like as ethanol extraction, received lower ratings.
Customer Reviews
Reading customer reviews is one of the best ways to determine whether a CBD oil is efficient. We looked for companies that had a lot of favorable reviews and comments regarding particular products.
Transparency
Additionally, we sought for businesses who were open about where their hemp comes from and how it is manufactured. Brands that posted the results of third-party testing on their website received better ratings.
Effectiveness
Of course, the effectiveness of the CBD oils was the most crucial factor we considered. To determine whether consumers believed the oils helped with problems including pain, anxiety, and inflammation, we looked at user feedback. We also checked to see whether there were any negative reactions or side effects from the oils.
Ingredients
Since CBD oils are ingested, choose a product that is free of toxic substances or dangerous compounds is essential. To make sure you're not ingesting any nasty chemical residue, we also looked for businesses that don't utilize hemp treated with herbicides or pesticides.
CBD products are a great option for people who are looking for an alternative to pain medication. CBD products are non-addictive and can be used long-term. If you are interested in using best CBD products for pain relief, be sure to do your research and talk to your doctor.
Frequently Asked Questions
What Is CBD Oil?
Natural oil called CBD oil is made from hemp plants. Cannabinoid called CBD, often known as cannabidiol, is present in the oil and interacts with the body's endocannabinoid system. CBD oil is believed to have a variety of health advantages via interacting with the endocannabinoid system, including the reduction of anxiety, aid in sleep and relaxation, and pain relief.
How Can I Treat My Pain With CBD Oil? What Dosage Should I Use?
CBD oil can be consumed orally, either on its own or when combined with food or beverages, and shouldn't disturb the stomach. Because it's simple to regulate the dosage, consuming CBD oil orally will typically be the best option for persons seeking pain relief.
If you want advice on dose and how to use your CBD oil to obtain the greatest effects, speak with your doctor.
Can CBD Oil Be Used To Treat Joint Pain?
Yes, CBD oil can be very helpful for arthritis and joint discomfort. This is due to the fact that CBD oil has been shown to interact with the body's endocannabinoid system, which controls pain. Due to its inherent anti-inflammatory properties, CBD oil may help lessen the inflammation linked to joint discomfort.
Can CBD Oil Treat Back Pain?
Absolutely, CBD oil can help with back discomfort. Numerous conditions, including muscle strain, arthritis, and pinched nerves, can result in back pain. What is causing your back pain and its intensity will determine how much CBD will relieve it.
Inflammation can be reduced by CBD oil, which may assist with back pain brought on by arthritis or a strained muscle. Additionally, CBD oil can aid with muscle relaxation, which may lessen back discomfort brought on by pinched nerves.
Can I Apply CBD Oil Topically?
The skin can be treated topically using CBD oil. The CBD oil will enter your bloodstream through your skin and be absorbed by your body.
Because you can target the pain specifically, this can be a useful alternative for localized pain treatment. Additionally, CBD oil can be applied to creams or lotions to further reduce pain.
Additionally, topical CBD oil may help lessen acne-related inflammation and redness.
Is CBD Cream Or Oil More Effective For Pain?
When it comes to finding relief from pain, there are a lot of options out there. But which one is the best? CBD oil or CBD cream?
It really depends on your individual needs. If you are dealing with localized pain, then CBD cream might be the better option. It can be applied directly to the area that is causing you pain, and it will work to target the inflammation and help to reduce the pain.
CBD oil, on the other hand, is a great option if you are dealing with more general pain or if you want to target other areas of your body. You can take it internally, and it will work to help to reduce inflammation throughout your body. It can also be used to help to improve your sleep, which can be a big issue if you are dealing with pain.
How Quickly Does CBD Oil Start Working?
If you're wondering how long it takes for CBD oil to kick in, the answer may depend on a few factors. The first is the method of consumption. CBD oil can be taken orally, inhaled, or applied topically. If you take CBD oil orally, it may take a few hours for it to be fully absorbed into your system. Inhaled CBD oil kicks in faster, but it may not last as long as oil taken orally. Topical CBD oil may take a few minutes to an hour to take effect.
Another factor that may affect how long it takes for CBD oil to kick in is the potency of the oil. A higher potency oil may take longer to kick in but will last longer. A lower potency oil may take effect more quickly but may not last as long.
Finally, your individual body chemistry may affect how long it takes for CBD oil to take effect. Everyone metabolizes CBD differently, so the same oil may affect two people in different ways.
If you're wondering how long it will take for CBD oil to kick in, the best thing to do is start with a low dose and see how you feel. CBD oil is generally safe and you shouldn't experience any serious side effects, even if it takes a while for it to take effect.
Will CBD Oil For Pain Work For Me?
Natural pain treatment supplement CBD oil has been proven to be beneficial. It is not appropriate for everyone, though. It's critical to comprehend how CBD oil works and whether it's appropriate for you if you're thinking about using it for pain treatment.
By attaching to endocannabinoid system receptors, CBD oil can lessen chronic pain and possibly other side effects like inflammation reduction. While some people experience significant pain alleviation from CBD oil, others have none at all.
The only reliable approach to find out if CBD oil will relieve your pain is to give it a try. Start with a low dose and gradually increase it until you discover the dosage that is most effective for you. To locate the CBD oil that will relieve your pain the best, you might need to try with various brands and potencies.
When taking CBD oil for pain for the first time, keep an eye out for any adverse effects and speak with your doctor if you have any concerns. Although most people believe CBD oil to be safe, it can interfere with several drugs. Before using CBD oil for pain, do some research and consult a doctor.
Finding the best and highest-quality CBD oil is not always simple, but it can be a fantastic natural method of pain relief. With so many items available, it might be difficult to know which one is best for you.
To help you choose the CBD oil that is ideal for you, we've compiled this list of the top CBD products for pain. You'll be able to select the best product to relieve your chronic pain with the help of the data and information in this article. We advise choosing any of the CBD oils on our list as a starting point if you're looking for one.