Work smarter not harder! Sometimes it is easier said than done. But after spending 14 man hours spraying each individual plant, Albert (GMF co-owner) went to work. He's an innovator. He will find a better way.
So let me tell you about this contraption. In order to shorten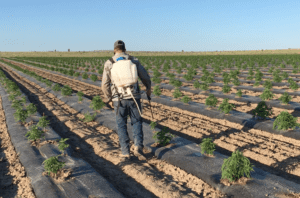 the width of the 3 wheeler, we drilled new holes in wheels that came off of a honda civic. This bought us about 6" on each side so that we could ride down the rows without any problem.
Then he loaded the tank on the back of the 3-wheeler, build arms that would extend the sprayers over the plants, and hooked up a pump, so we can just flip the spray switch.
14 man hours into 3. Every farm needs an Albert!